Video with 4 notes
If you're a hockey fan, you must watch this!
Share this Video!
Source: puckpirate
This year Puck Pirate will be hosting a 2012-2013 Yahoo Fantasy Hockey league.
There is a total of 12 teams and 10 of the spots have already been taken!
If you are interested in filling 1 of those last 2 spots, and you think you can run with the big dogs, please message me with your email address, and i will send you an invite with the league password and more information.
Thanks and Good Luck!!!
-Puck Pirate
Source: puckpirate
Post with 1 note
As hockey fans it's our duty to stand up and fight for our team and player and support them when theyre shining, but more importantly when theyre down and they need our support the most. Well right now they need our help! the NHL owners presented a new "CBA proposal" which basically means they want more money and its going to be taken away from the players. the players of coarse will not accept that, and unless they come to terms by September 15, there will be no 2012/2013 NHL season at all!
I think this is rediculous and extremely selfish of the owners!
Lets stand up for our teams and players and protest the Lock out!!!
how can you help:
1. go on twitter and follow @StopTheLock2012
2. Reblog this post!
3. Spread the word as much as you can 
Source: puckpirate
Post with 1 note
Iv'e been hearing hundreds of rumors everyday about big trades that are going down this year, and with only a week left to make these moves, STUFF IS ABOUT TO GO DOWN!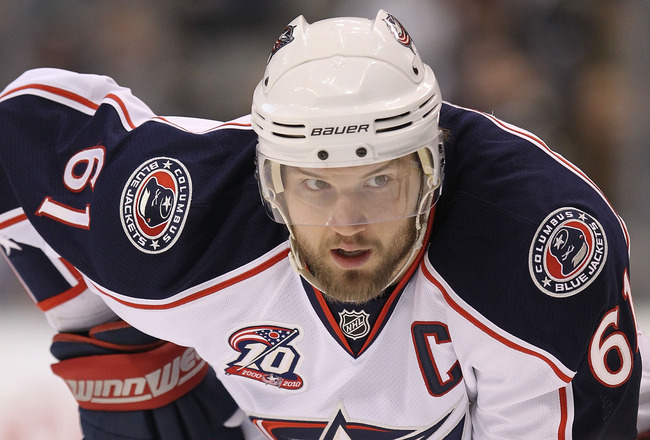 BIG NAMES TO WATCH FOR: 
1. RICK NASH #61 Columbus Blue Jackets
2. JEFF CARTER #7 Columbus Blue Jackets
3. RYAN GETZLAF #15 Anaheim Ducks
4. TUOMO RUUTU #15 Carolina Hurricanes
5. ALES HEMSKY #83 Edmonton Oilers
Source: puckpirate
Photo with 3 notes
Brad Richards #91 of the New York Rangers
Source: puckpirate
Photo with 2 notes
expect John Michael Liles back into the line up tonight after being out since december 22 with a concussion
Source: puckpirate
The Pittsburgh Penguins claim Cal O'Reilly #26 of the Phoenix Coyotes off of re-entry waivers
Source: puckpirate
Post with 1 note
Sidney Crosby has been making good progress towards recovering from a concussion. He's still practicing with a non contact jersey, but teammates have mentioned he has been more upbeat, and has more jump in his step. With that being said, Crosby is also very upset with the Pittsburgh Penguins medical staff. They cleared him for contact after his first concussion with out realizing Crosby did not only suffer a concussion but had also sustained a serious neck injury. The neck injury wasn't found until visiting with another medical source, but the report shows that Crosbys neck is now fully healed.
Source: puckpirate
Post with 1 note
Team Chara beats the home team, team Alfredsson 12-9
MVP of the game goes to Marian Gaborik who scored a hat trick
Source: puckpirate
EVENT 6: Elimination Shootout
Round 1
Team Chara
Colin Greening: MISS
Pavel Datsyuk: MISS
Evgeni Malkin: SCORE
Corey Perry: MISS
vs. Goalie Henrik Lundqvist
Tyler Seguin: MISS
Marian Gaborik: MISS
Patrick Kane: MISS
Jarome Iginla: SCORE
vs. Goalie Brian Elliott
Jamie Benn: MISS
Joffrey Lupul: MISS
Kimmo Timonen: SCORE
Ryan Suter: MISS
vs. Goalie Jonathan Quick
Team Alfredsson
Carl Hagelin: MISS
Steven Stamkos: SCORE
John Tavares: SCORE
Jason Spezza: SCORE
vs. Goalie Carey Price
Claude Giroux: MISS
Daniel Alfredsson: SCORE
James Neal: MISS
Milan Michalek: MISS
vs. Tim Thomas
Jason Pominville: SCORE
Kris Letang: SCORE
Erik Karlsson: MISS
Daniel Sedin: MISS
vs. Jimmy Howard
Round 2
Team Chara
Evgeni Malkin: MISS
Jarome Iginla: MISS
Kimmo Timonen: MISS
Team Alfredsson
Steven Stamkos: SCORE
John Tavares: SCORE
All Chara players eliminated. Team Alfredsson wins team portion. Remaining players continue to elimination.
Jason Spezza: MISS
Daniel Alfredsson: MISS
Jason Pominville: SCORE
Kris Letang: MISS
Round 3
Steven Stamkos: SCORE
John Tavares: MISS
Jason Pominville: MISS
Winner: Steven Stamkos
Source: puckpirate