Post with 1 note
Iv'e been hearing hundreds of rumors everyday about big trades that are going down this year, and with only a week left to make these moves, STUFF IS ABOUT TO GO DOWN!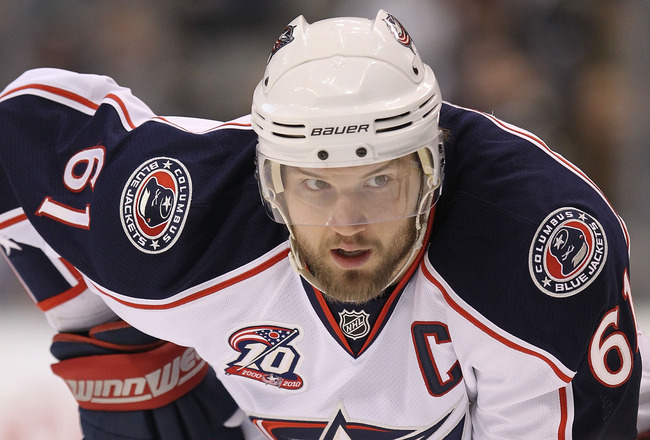 BIG NAMES TO WATCH FOR: 
1. RICK NASH #61 Columbus Blue Jackets
2. JEFF CARTER #7 Columbus Blue Jackets
3. RYAN GETZLAF #15 Anaheim Ducks
4. TUOMO RUUTU #15 Carolina Hurricanes
5. ALES HEMSKY #83 Edmonton Oilers
Source: puckpirate
Post with 50 notes
Later on tonight, the Buffalo Sabres will be announcing their decision on a huge trade with the Anaheim Ducks. The Ducks have proposed a trade to the Sabres that will move Stanley Cup Champion and Olympic Gold Medalist Ryan Getzlaf, who is arguably the Ducks best player, for Buffalo's young and extremely talented defense men, Tyler Myers. If this trade goes down it will be one of the biggest trades in NHL history. You don't trade players like Getzlaf and Myers.
Personally, I think this deal would be slightly in favor of the Ducks. Even though Getzlaf is a very decorated All-Star and only 26 years of age, Defense men like Myers are the rarest players to find. He's compared to players like Chara, Weber, and Pronger, who are all elite Defense men that set the pace of a game. Look at the history of Stanley Cup winners over the last 10 years and you will find every team had an elite defensive pairing. But the Buffalo Sabres feel like they need an elite center like Getzlaf to compete in the East. More to come with the results later tonight!!!!
Other trades! (rumors)
Shane Doan- Phoenix  coyotes FOR Evander Kane- Winnipeg Jets
James Van Riemsdyk- Philadelphia Flyers FOR Luke Schenn- Toronto Maple Leafs
Source: puckpirate