Post with 1 note
Iv'e been hearing hundreds of rumors everyday about big trades that are going down this year, and with only a week left to make these moves, STUFF IS ABOUT TO GO DOWN!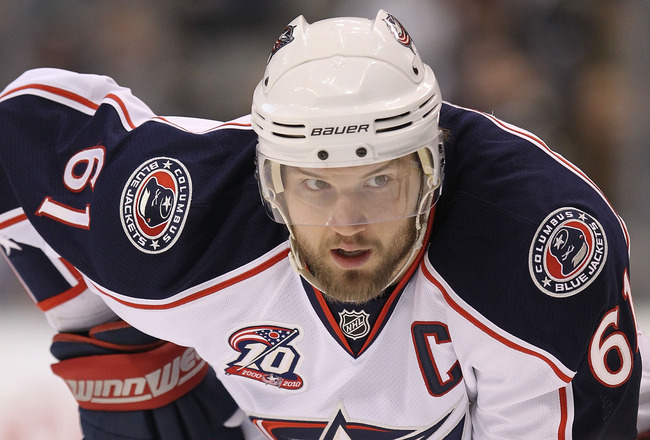 BIG NAMES TO WATCH FOR: 
1. RICK NASH #61 Columbus Blue Jackets
2. JEFF CARTER #7 Columbus Blue Jackets
3. RYAN GETZLAF #15 Anaheim Ducks
4. TUOMO RUUTU #15 Carolina Hurricanes
5. ALES HEMSKY #83 Edmonton Oilers
Source: puckpirate
Post with 67 notes
With the NHL trade freeze starting tommorow, GM's have their hands full discussing trades to make their teams better. Being dead last in the NHL standings, the Columbus Blue Jackets have alot of work to make up. What better way to fix a struggling team than a good old fashion trade? Rumors have it that Columbus has team captain Rick Nash, and young but talented center Derick Brassard, on the trade block. Trading Nash would be huge! That would indicate Columbus is jumping into a rebuilding phase. Nash has spent his whole career with the Blue Jackets, getting drafted first overall in 2002. He's had two 40+ goal seasons and several 60-70+ point seasons. The 6' 4", 216 pound winger would be a great addition to any team. The teams I hear are interested in Nash are the Carolina Hurricanes, Toronto Maple leafs, L.A Kings, and the San Jose Sharks. If any of these teams do acquire Nash, watch out cause they're all teams that can do some damage, especially with an addition like that.
Derick Brassard, the young center that would fill a second line spot on any team is more likely to get traded. There's a few teams interested, including the Buffalo Sabres, Toronto Maple leafs, Pheonix Coyotes, and the Vancouver Canucks. I personally would like to see Brassard go to the Sabres, and play along side Drew Stafford and Tyler Ennis. There's a huge amount of talent in this young center's hands, and I feel it would be used best on the second line for Buffalo. If he were to get traded to Vancouver or Toronto, both teams having solid centers already; Brassard would most likely end up on their 3rd line with a checking role. I'd much rather see his offensive talent used. I will be updating tomorrow when more information is revealed.
Source: puckpirate